Yellow brick buildings and a Wizard of Oz mural on North Franklin Street inspired the name of Tampa Heights' first business district, Yellow Brick Row.
But creating the Yellow Brick Row Business Association is no exaggerated fantasy. Business owners along North Franklin and surrounding streets are coming together with one voice to create a vision plan for their community.
On a recent night, approximately 50 business owners, residents, and city leaders gathered at Hidden Springs Ale Works for an Urbanism on Tap workshop. The brainstorming session sparked a conversation about what's next for Yellow Brick Row, the trade association and the Tampa Heights neighborhood.
Sponsors included the Urban Charrette, CNU (Congress of New Urbanism) Tampa Bay and Sun Coast APA (American Planning Association).
A moderator leads the discussion at Urbanism on Tap on Yellow Brick Row.In an open-mic format, residents and business owners presented the challenges of nurturing the hip, eclectic energy that has brought North Franklin back to life. The mission is historic preservation, better public transit, affordability, and more local, small-scale startups.
A major concern is the fate of several parking lots in an area that currently lacks design guidelines and a vision plan to control what can and cannot be developed.
Potential solutions ranged from form-based codes and overlay districts to incentives for developers who work with the community.
"We're on the cusp of a lot of development and change," says Rialto owner Hope Donnelly. "We're the only business district in Tampa Heights and we're also historic, so we need to start expressing our feelings."
Last summer, more than 50 people from Tampa Heights, Yellow Brick Row and the Tampa Heights Civic Association came together to set their priorities. They include preserving the historic charm of the area; multimodal transport that favors pedestrians, bicycles and public transport; supporting small businesses and startups; and promote arts, culture and crafts that welcome diversity.
Ideas about the future of North Franklin Street began to germinate more than five years ago. But, in the past year, the creation of a business association has become a reality, spurred on by some of Franklin Street's early entrepreneurs and encouraged by the Tampa Downtown Partnership.
"When we all started coming (to North Franklin Street), we could see the need for a collective voice," says Carl Johnson, owner of Franklin Street Fine Woodworking. "We were the impetus to start talking."
Advocacy for the Tampa Heights neighborhood
Blocks were slowly filling up, one business at a time and year after year, as owners rehabilitated and transformed abandoned and historic buildings into destinations for commerce, culture and the arts.
Café Hey, CAVU, Junto Design Studio, The Rialto Theatre, The Hall on Franklin, Robertson Billiards, The Hip Room, Whole Better Life, Foundation Coffee and Tampa Muay Thai are among nearly two dozen local businesses on Yellow Brick Row. Most are on North Franklin; some are on Florida Avenue and Tampa Street.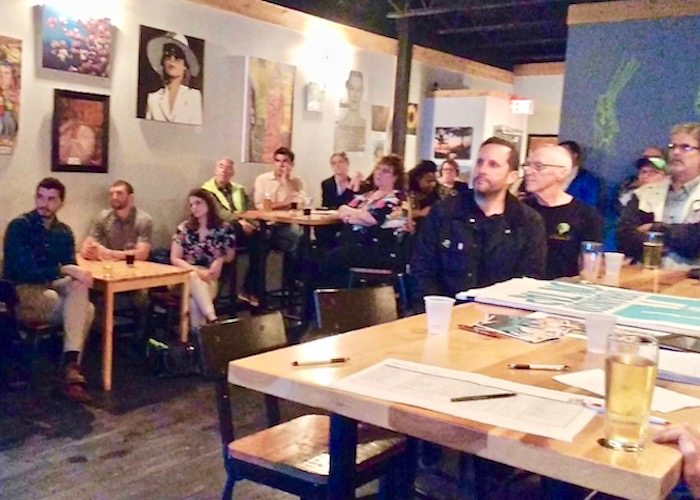 About 50 people gather at Hidden Springs Ale Works for an Urbanism on Tap workshop on the future of the Yellow Brick Row Business Association.The professional association will be the advocate for the district. And, it can open up dialogue with city officials whose help will be needed to guide future development.
Echoing Johnson's plea, Donnelly says, "We want to unify our voice."
Staying ahead of a rapidly changing development curve taking hold in Tampa Heights is crucial, she says.
The Tampa Heights Civic Association is a trade association booster. Both associations have common goals.
"When companies come together like this, they help launch many initiatives and promote real estate development," said Justin Ricke, president of the civic association. "They add momentum to a long neglected area. This (business association) is something that really helps connect all the different communities that haven't been able to connect before. »
The Yellow Brick Row is on a segment of North Franklin between Kay Street and Palm Avenue. But the business district is wider and deeper than two blocks.
Within walking distance are the Ulele Restaurant and the Armature Works. PEARL apartments are nearby. The Heights, a planned mixed-use development, is coming soon.
Long-standing businesses, including Oceanic Supermarket, populate Tampa Street.
In October 2018, the city and the Tampa Downtown Partnership took an important step in recognizing Yellow Brick Row and new growth immediately north of downtown.
For the first time since the 1990s, the Special Services District has expanded its boundaries to include Tampa Heights. The new borders generally sweep the street grids of Tampa Heights between Interstate 275 and Central Avenue, and Scott Street to Palm Avenue.
Taking Yellow Brick Row to the next level
The designation gives the district access to special programs to keep streets clean, assistance with marketing strategies, transit access to downtown, grants, and the Partnership's Downtown Guides who provide friendly assistance to tourists.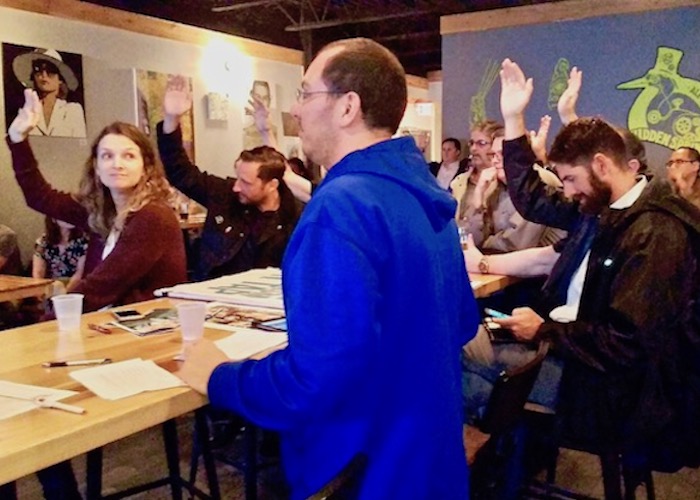 Hands go up during an Urbanism on Tap workshop as people share their ideas and hopes for the future development of Tampa Heights and the Yellow Brick Row business district.Alana Brasier compared Yellow Brick Row to the Edge district on Central Avenue in St. Petersburg, which sees the opening of new restaurants and stores.
"I see what older neighborhoods can do when they take it to the next level," says Brasier, who is an urban planner and manager of operations and public spaces at the Partnership. Business associations can "energize neighborhoods," she says.
What has been lacking in the past, according to many locals, is city awareness. City officials, working with area stakeholders, could make a positive difference in the neighborhood's development, Johnson said.
It's in everyone's interest to open up dialogues about what comes next, he says.
It will be easier with the Yellow Brick Row Business Association as an active partner, says Brasier.
"We know who to turn to now," says Brasier. "We have a strong voice to speak to."